You may not know that if you walk up to our store from the alley you will find a secret garden, it is full of ferns and bark-mulch, there is a name for that kind of garden but I have no idea what it is called. I am rather fond of the out doors, when it isn't raining and isn't too hot, so for about 10 days of our west coast year.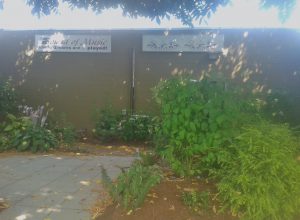 Other people use the back garden far more than I do. Adam, for example, will open his class room door and teach out on the paving stones. Right now he is running week long summer camps and the kids are having a blast playing out back, hackey sack seems to be the game of choice this year. With each camp trying to get more passes than the one before it! For more information on our summer camps CLICK HERE!!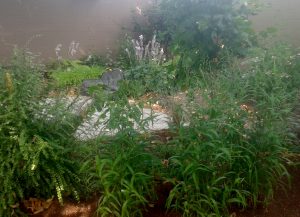 Our garden also has flowers, they are all indigenous type plants so don't require too much care and attention. It also has a nice little path that winds through the foliage.
There is also really cool log. I am partial to the log as I can't kill it (I do not have a green thumb).

So, next time you are in the store pop out back and check out our little garden. Maybe you will luck out and someone will be out practising their music or performing for the people walking by.